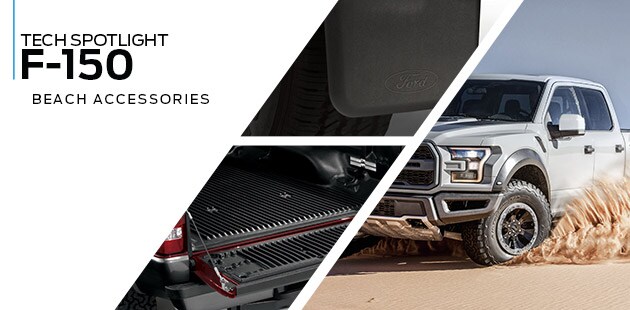 For many families across the country, summertime means beach time. Whether that is at the ocean or your favorite local lake, your Ford F-150 will be the perfect companion. Add a few accessories this year, to make your beach time even better.
Seat Covers
When you go to the beach, you will inevitably get covered in sand. Don't let that sand make its way into your seats. Buy a set of seat covers for your F-150. They will protect your upholstery and when they do get dirty, you can easily take them out to clean them.
Floor Mats
A set of all-weather floor mats will be well worth the investment. These mats are made out of a plastic material that can resist water, mud, and sand. Pull them out and hose them down when they get too dirty.
Bed Net
Going to the beach requires a lot of gear, from coolers to chairs to toys. Keep everything secure in your F-150's bed with a bed net. It will tie all of your equipment down so you can feel confident while you are driving.
Trailer Brake Control
If your beach time includes some boat time, you need to stay in control of your trailer. With the addition of a Trailer Brake Control, taking your boat to the beach will be easier and safer.
Of course, if you still need that F-150 to take yourself and your family to the beach (and to pick of a few of the accessories above to make that trip more convenient), make sure to visit us at Palmetto Ford.